When Krystal and I first met I was so excited to hear about the vision for their wedding day!  She told me the most beautiful details about her tulle gown, the subtle use of pink, the sweets table, and of course their reception being held at the Chrysler Museum.  This was our team's first wedding at the Chrysler Museum since they reopened following their remodeling and we were all pretty darn excited about having a live orchid wall as the backdrop to the cake!
First things first though.  Krystal and John were married at the First Presbyterian Church in Norfolk and was it ever a beautiful church!  To be honest, beautiful doesn't even begin to describe the beauty of the high arches, delicate stained glass windows, floor to ceiling organ and the exposed wooden rafter ceiling.  It's an immaculate space.
The cocktail hour was held at the Chrysler Glass Studio where guests mingled while artists blew a glass piece for the couple to keep.  As they headed to the reception they grabbed a cake pop (adorned with tulle in the likeness of Krystal's gown) labeled with their name and table number to help them find their place at the reception.
The reception was held across the street in Huber Court at the Chrysler Museum of Art.  The tables were covered in a champagne linen and each place setting had a pink napkin.  The centerpieces varied between tall trumpet vases filled with hydrangea and orchids and low gold pedestal vases with an assortment of flowers.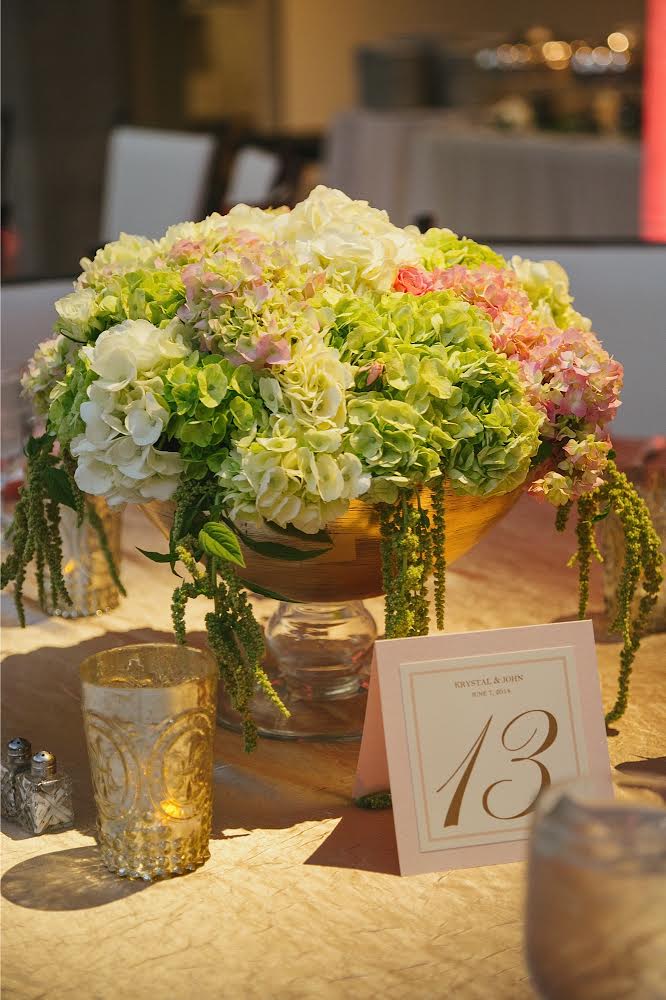 John and Krystal sat with their bridal party at a long double sided head table with a white tablescape of flowers, petals, and candles running down the center of it.
In addition to the fabulous meal prepared and served by Cuisine & Co., guests were also treated to an ice carved tug boat of cocktail shrimp, a gorgeous and delicious wedding cake, and as guests departed for the evening they helped themselves to an adorable and scrumptious sweets bar of donuts and popcorn.
Here are a few more images from their day
Special thanks to their amazing team of wedding professionals: Coordination: As You Wish Ceremony Musicians: Galliard Trio Caterer: Cuisine and Co Photographer: Jeff Greenough  Florist: Palette of Petals Cake: Patti Cakes Lighting: Stageright Lighting Sweets: Paradise donuts +  Jody's Popcorn Ice Sculpture: Ice Art